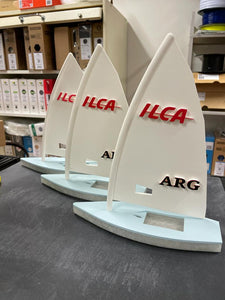 The large 3D printed laser makes a great present or award for your laser regatta. You can have your club or company logo in the sail. Boat dimensions 22 x 7.5 x 1.5 cm, sail height with mast 25cm.
The price includes custom logo printed in the sail. Several colours are available both for the boat upper rim and logo printing. The hull is transparent, the colour you can pick is for the hull rim colour. 
In the comment field (end of the order) please note the email address you will be sending the custom logo from. After the order, please send us your custom logo to sales@3dmarineandmore.com in JPG, IMG, BMP, PNG or any other image format.